25.02.2019
Seminar on corporate turnarounds, financial debt restructuring and relaunching a company
Incontro dedicato alle aziende che vivono momenti di tensione e difficoltà economico-finanziaria in cui discutere le strategie operative per il rilancio dell'impresa.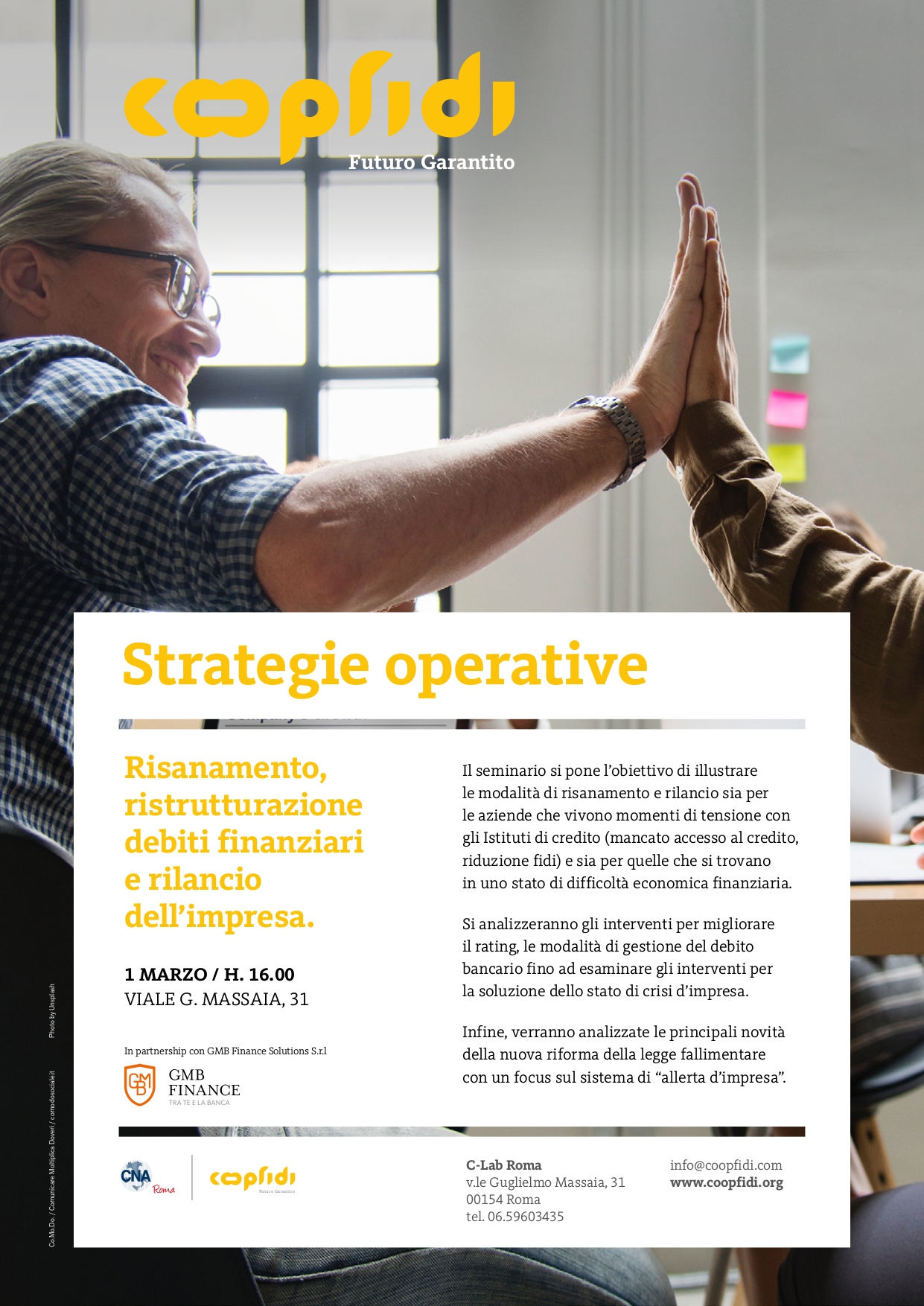 GMB Finance, in collaborazione con Coopfidi e CNA Roma, ha il piacere di invitarvi al seminario che si terrà il prossimo 1 Marzo alle h. 16.00 presso C-Lab Roma (VIALE G. MASSAIA, 31), dedicato alle tematiche del Risanamento, della Ristrutturazione dei debiti finanziari e del Rilancio dell'impresa. Il seminario è dedicato sia a quelle aziende che vivono momenti di tensione con gli Istituti di credito (mancato accesso al credito o riduzione fidi) sia a quelle che si trovano in uno stato di difficoltà economica finanziaria.

Al seminario verranno affrontate le seguenti tematiche:
interventi per migliorare il rating;

modalità di gestione del debito bancario;

interventi per la soluzione dello stato di crisi d'impresa;

principali novità della nuova riforma della legge fallimentare con focus sul sistema di "allerta d'impresa",
Per partecipare o per avere ulteriori informazioni scrivi a gmb@gmbfinance.it o chiama lo 06.8540346.

Con i migliori saluti,
Il team di GMB Finance
23.12.2022
GMB Consulting on green loan financing transaction for € 140 million Mont Blanc Project of Israeli company Solegreen Ltd
APPROFONDISCI
23.06.2022
GMB Consulting in the € 150 million green loan financing of the Basalt solar portfolio
APPROFONDISCI
25.11.2021
GMB Consulting on refinancing transaction for € 28,5 million of POLIS SGR
APPROFONDISCI
CONTACT REQUEST
Leave your contact details and we'll get in touch with you.